Today we are going to have a look at the new all-in one website optimization and SEO software, the Shine Ranker SEO tool. This tool is being very well received online and I use this myself regularly for my own websites. As this is one of the best SEO tools that you can use to boost your ranking in the search engines, for both Google and Bing. In this blog post, we will be discussing all the features of the Shine Ranker tool and also telling you about the pros and cons of using it. We will also tell you how to use Shine Ranker for search engine optimization (SEO) purposes. So without further ado, let's start!
Shine Ranker Review 2022 – All in One SEO Optimization Tool
There's no doubt that SEO is one of the most important aspects of online marketing. But how do you know if you're doing it correctly? That's where Shine Ranker comes in. This helpful tool developed by Chase Reiner provides detailed information about how well your site ranks in the SERPs, including top keywords and phrases. This is a valuable tool that can help you identify areas where you need to make changes to improve rankings.
What is Shine Ranker?
Shine Ranker was developed by Chase for his own use and based on the tools he used to purchase to conduct his own SEO services for his business and his clients. Chase developed the Shine Ranker new tool by selecting the best features from the many more overpriced and inefficient software's on the market and then combining the features that were the most beneficial and worked best together into one, easy to use new powerful SEO software suite.
The website audit tool helps you research your market, develop content and then track your website's SEO progress for the new content and strategies that you employ. Overall, Chase Reiner's Shine Ranker is an excellent way to stay on top of your SEO game!
What are the Features of the Shine Ranker Tool?
When it comes to effective SEO, it's important to have all the information at your fingertips. That's where the Shine Ranker comes in. Consisting of a suite of specialized software designed by SEOs for SEOs, you can get up to speed and using this new software in no time. When you use the software it will provide insights on how your website ranks against other similar websites, as well as insights on where to make changes so your site can be more visible and successful online to reach page 1 of Google.
The main features of the software include showing where your website is ranking, the monthly search volume for profitable keywords, a rank tracker history, competitor analysis, and a scorecard to help you choose the keywords you want with a good amount of monthly searches but a low competition, where there are better opportunities for you to rank. By using this information you can improve your website ranking and visibility online!
What are the Pros and Cons of Using the Shine Ranker?
There's no question that SEO is an important part of any website's marketing strategy. But what tool is best for helping you in ranking your website and improving it's SEO performance? Shine Ranker is one of the most popular and effective all in one SEO software suites on the market. It provides a visual representation of your website's SEO strengths and weaknesses, making it easy to understand and to then with access to the tool to work to improve your ranking. Additionally, Shine Ranker as an all in one tool makes it easy to switch between the features of the software. All the software and data is cloud hosted and you can access all the Shine Ranker tools via the browser view. So nothing to install and no API setup to connect to your sites or competitor sites. All the research is undertaken via the web based view so can be used on a Mac, PC or even a mobile.
It is an effective software tool for helping you for finding profitable keywords with opportunities to rank, managing those keywords and then tracking your website's keyword SEO performance with these online in the SERPS. This means that it can help you achieve better search engine ranking results in a short amount of time. The outputs are clear, but it may need some basic understanding of SEO to use the software to the full, and help you in your online journey for website rankings. Despite these cons, the pros of using the Shine Ranker include accurate rank tracking, easy navigation, and quick results.
How to Use Shine Ranker SEO Tool?
Shine ranker is a SEO tool that uses an algorithm to calculate a website's page ranking in the search engine results. This ranking is based on a number of factors, including site content and on-page optimization. Shine Ranker provides detailed information about the ranking, which is helpful in determining where your website stands in relation to other websites in your niche or industry. Additionally, Shine Ranker allows you to compare data from different periods of time to measure progress and make tweaks as needed. Overall, Shine Ranker is the perfect SEO software suite that can help you measure your website's SEO performance.
How Does the Shine Ranker Work for SEO Optimization?
When it comes to SEO, it's important to start with the basics. That's where Shineranker makes it easy. It tells you what areas of your website need improvement and offers advice on how to improve them. You can also use the tool to see where your competitor's websites rank, and learn from their mistakes to find easy keywords to rank with a lower SEO difficulty. Overall, the Shine Ranker is a great way to get started with SEO work and track your progress over time. For anyone who wants to rank content online, rank a website and find good keywords to save time Shine Rankers custom metrics help you identify where to start. Start improving your website like an SEO pro with the help of the software!
Shine Ranker Keywords Research Tool
If you're looking for a powerful tool for keyword research, then Shine Ranker is the perfect seo tool choice. It's simple to use and has a range of features that will help you find the right keywords. Additionally, you can see how your competitors are ranking their keywords in order to improve your own rankings. Overall, Shine Ranker is an invaluable tool that will help you as a blogger or a small business owner to optimize your website for success!
Finding Profitable Keywords with Keyword Research
After entering you keywords selection the software will return a whole list of keywords with their monthly search figures. This is similar to many other keyword tools but what makes Shine different is that it also show how competitive the keywords it finds are. It does this by checking the InTitle Results of the keyword. You will see that some data may already have a value shown and these are colored green, yellow or red for low, medium and high competition. If the InTitle Results of the keyword are not already showing you can select them and ask the software to update the results.

The best method to use this is to sort the results High to Low on the Monthly Search value and then look in the middle of the results for keywords with less volume but which will also have lower competition. You filter the keywords with the INPUT field in the top right hand corner to reduce the amount of data shown. With this method it is easier to find green results keywords which are not being directly targeted in the search.
Shine Ranker Keywords Tracker Dashboard
If you're looking for an easy way to track your website's keywords ranking, then you need to check out Shine Ranker's keyword tracking features. The dashboard features a Keyword Tracker, which lets you view your websites current and previous rankings for the terms that you select, as well as monthly keyword search volume, how competitive the terms are and the cost per click (CPC) of the search terms for paid traffic costs. This is invaluable for a business or website owner to actually see how your keywords are performing on the search engine results pages (SERPs). You can add your keyword terms to track either via the keyword research tool or from the the Traffic Checker tool.
How Does the Keyword Tracker Work?
Once you add your keywords to the tracker tool you need to allocate the keyword to an existing page or post on your site. If you do not have any content there currently you can also assign one of your favorite content writers to the post to manage the content production for you.
The benefit of the content creation in the software is that the content writers will get a link that you share with them back to the software to update the content for you. But all without you having to give them access to the software.
When the content has been completed and the post updated you can then add the URL of the post to the Keywords Tracker and the Tracker will then manage all the tracking and graphing of the results for the rank of the keyword for you.
This is a great tool to help you track your progress and optimize your site for better search engine ranking. For a beginner, Shine Ranker is a great way to get started with search engine optimization.
The Different Types of Research Available with Shine Ranker
When it comes to research, there are a number of different options available. Shine Ranker offers three different types of research – keyword research, traffic analysis and competitive research. Each one helps you understand your competition and find keywords that will help rank your site higher in search engine results pages (SERPs).
Traffic analysis looks at the sources of traffic that is coming to your website via organic search traffic, while keyword research looks for relevant and high-traffic keywords that can be targeted for SEO purposes. Competitive research helps you identify which keywords are being targeted by your competitors so that you can stay ahead of the competition.
How Does it Work?
Shine Ranker is a suite of powerful SEO tools that with a click of a button gives you detailed insights about the competition, their traffic and CPCs (cost per click). This will help you identify keywords that are worth pursuing for your site. Furthermore, it helps in improving website ranking as it allows you to generate audits to understand what is working and what is not working correctly on your sites. Moreover, the software can also be used to find new keywords for blog posts or website content. Additionally, it also has features like search volume and keyword difficulty index which make it an ideal new SEO analyzer tool for anyone who wants to rank a website online!
How to Start Using the Tool
SEO is an ever-evolving field, which is why it's important to use the latest tool in your arsenal. If you want to research keywords and see where they rank on Google, then Shine Ranker can help and may be just what you're looking for. This SEO tool allows users to audit websites and research top quality keywords to get detailed information about their ranking on search engine results pages (SERPs).
As keyword research can play a major role in improving site traffic, using Shine Ranker couldn't be more beneficial. By following the tips given in this blog post and the training, you can maximize your chances of success with this powerful tool!
Shine Ranker Keywords Competitor Tool – Traffic Checker Research Tool
Shine ranker is a SEO tool that allows users to research and compare the marketing value, traffic and difficulty of different search traffic. It offers a user-friendly interface and helps users to research their online competition, allows you to find easy to rank keywords with the keyword tool, and shows you the website rank of your own site or your competitors websites.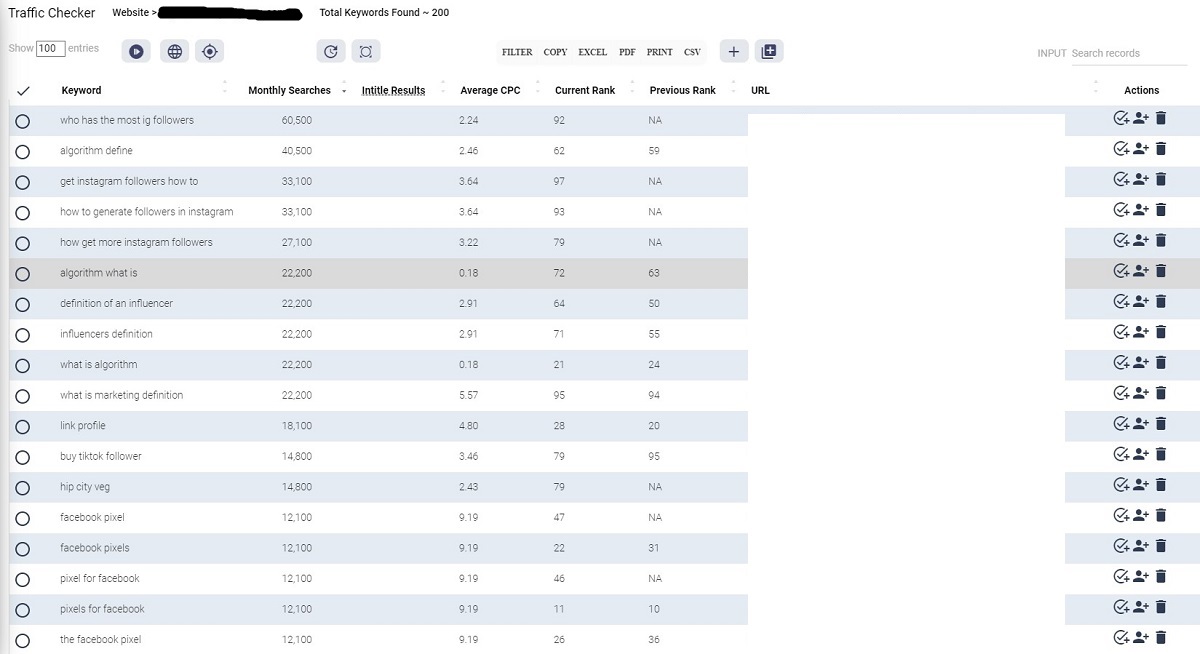 What are the Features of the Traffic Checker Tool?
When it comes to keyword research, nothing beats a tool that is user-friendly and can help you identify profitable search terms and keywords that are working now and that are driving traffic so that you can identify these and track and improve your progress in a systematic way. That's why the Traffic Checker feature offers an easy-to-use online search tool with extensive search features.
How Does the Traffic Checker Work?
Keyword research is an important tool for any business seeking to succeed in the competitive online marketplace. Shine Ranker offers valuable insights on how well your competitor's keywords are performing, as well as their SEO tactics. You can enter any URL and this will help you identify where you need to improve if you want to be ahead of your competitor's in the race.
How to Use it for SEO Purposes?
The use of SEO can be quite tricky and time-consuming. However, using Shine Ranker you can simplify the entire process. It helps you explore your competitors or your own website's content, if it has identified any issues for SEO, the keywords which are ranking on the site, and the number of monthly searches for those ranking terms. Making it easier to strategize your SEO efforts using the keyword results. Additionally, it also provides insights into your website rank changes over time. This is valuable information that will help you track your progress and identify any new opportunities for improvement or for expansion that should be captured in your online marketing strategy and website ranking on page factors.
What are the Limitations of the Traffic Checker?
It's important to trust the findings of software tools as they provide a constant which can be measured against. SEO software does not access the same data as Google as Google does not make that available so SEO software has to generally source their data from a number of other commercial sources of online traffic data. Without this measuring progress will be difficult. So by using a common method every time you what to check your results can see your performance improve over time with your increased online efforts. By providing detailed insights into your competitor's online strategies, it can help you strategize and improve your own online campaigns.

Remember that competition is fierce so don't take any shortcuts in terms of SEO! Follow all the recommendations provided in the report and make sure everything is on track – from competition research to improving site content and on page quality scores. It isn't perfect though and has some limitations as such (doesn't allow you to compare competitor sites side by side with yours which is available in more expensive tools) but that is a minor concern and with Shine Ranker by your side, winning in today's competitive market won't be a challenge at all!
Shine Ranker Shine Audit Tool
For any business owner or SEO specialist, Shine Ranker is a must-have tool. This SEO audit tool can be used to audit your own website's search engine ranking and see where you rank for different keywords and provides detailed information on your rankings, including identifying the keywords bringing the traffic and the breakdown of their value in the SERP. Or it can be used for your competitors rankings. You can then use the tool to add keywords to the Rank Tracker to track your progress over time and make changes if needed.
So, what are you waiting for? Start using Shine Ranker today to get detailed information on your website ranking progress and areas for improvement!
If you're looking for a SEO tool that will provide you with valuable information about your website's performance, then the Shine Ranker is an excellent choice. The Shine Ranker is also an SEO tool that allows you to analyze your website's ranking and improve it. You can use it to optimize your website for better search engine rankings. So, if you're looking for a tool that will help you take your website to the next level, the Shine Ranker is a great option to consider.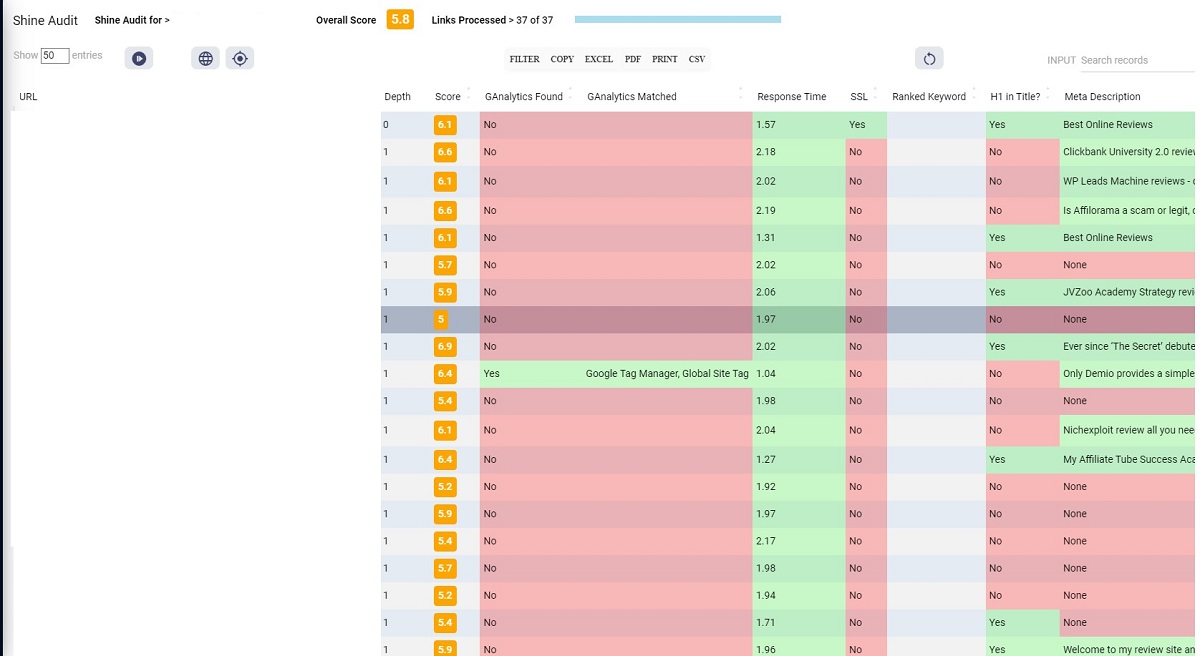 How Does the SEO Audit Tool work?
Improving your website's visibility requires more than just putting up content and hoping for the best. It is important to use a tool that can help you identify where your site is performing poorly or not targeting at all and make necessary changes in order to improve rankings. That's where SEO audit comes in – it is an easy-to-use tool that allows you to do all this without any previous web design or marketing experience. In addition, the report data created after the audit which can be exported for analysis, will provide all the information you need on what needs to be done so your site can rank higher in search engine results pages (SERPs).
The Features of the Audit Tool
There are a lot of benefits to using SEO tool like Shine Ranker to optimize your website for increased traffic and better rankings. The tool is available online via a browser so can be used for both desktop and mobile users on a Mac or a PC. So it can be used by any business size or stage. Moreover, the tool helps you assess the progress of your SEO work and track changes over time in an easy-to-read browser display and downloadable reports or export data. Finally, Shine Ranker also helps identify website's strengths and weaknesses so that corrective action can be taken as needed!
Limitations of the Audit Tool
There are a few important factors you need to consider before choosing an SEO tool. If it can help your business achieve better search engine rankings, then that is a major advantage. In terms of applicability, Shine Ranker seems to be ideal for businesses looking to organize or improve their online marketing strategy. It isn't perfect though and has some limitations as such (doesn't allow you to update the website content directly which more expensive tools can).
Given this, it might not be the best option for agencies who need access to large volumes of data in their SEO tools but for small businesses this tool is ideal and won't take too many resources to invest in it and the reports are designed to be shared with writers to fix the content issues from the reports data.
Is Shine Ranker a Good Tool for SEO Clients?
Yes you can use the tool for clients as there are no restrictions on the usage of the software. Within the video Tutorial section Chase explains how to use the software to create website audits for prospecting to clients for SEO. The software can be segmented into projects and each project label will be a separate area for keywords and keyword tracking. You would create a new project for each client or website that you want to track, audit or do keyword research on and all the data is kept separate. Separating the data between projects allows you to easily switch between different views of saved client data.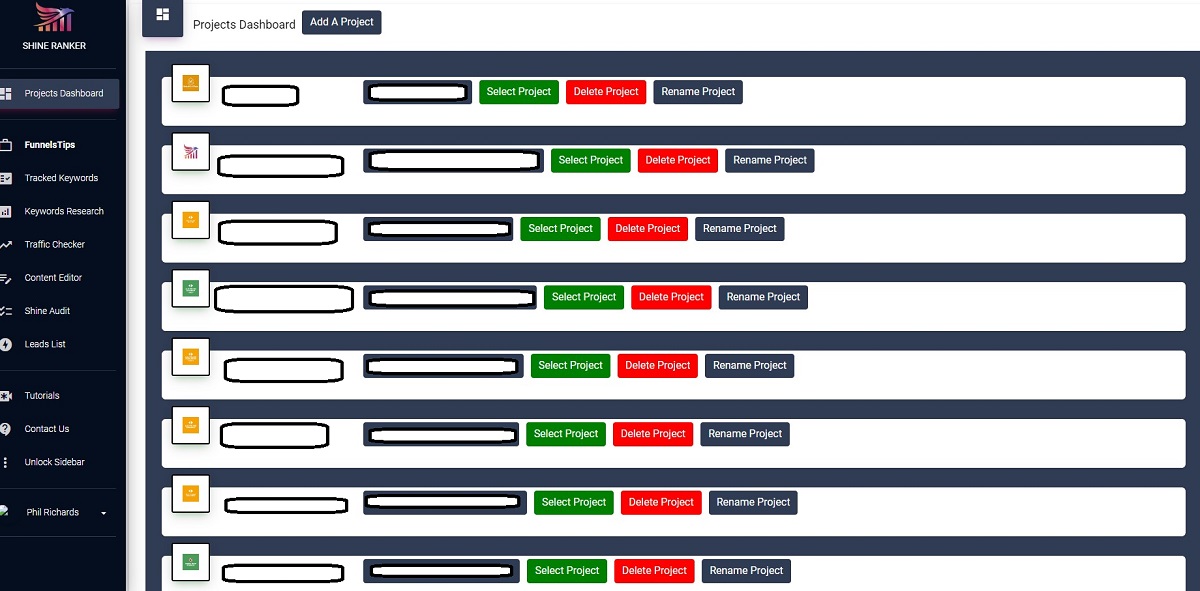 There is also a feature within the tool to manage prospect leads and contact them from within the software. You can also generate an iframe code from within the software and then add the iframe code to a widget or an area on your website which will allow visitors to create an audit of their own website. They will need to add their email address to access the data and this will be added as a lead within the Leads area of the software for you to follow up with. The iframe code displays as follows:
The visitor will get to view their free website audit directly after adding their email and URL as follows. The report is color coded showing in red the items which need correction. This is similar to the Audit view within the dashboard but with no filtering options.
Content Editor Feature
The Content Editor feature of the software is another tool that can save you money on your software subscriptions and improve your website content performance.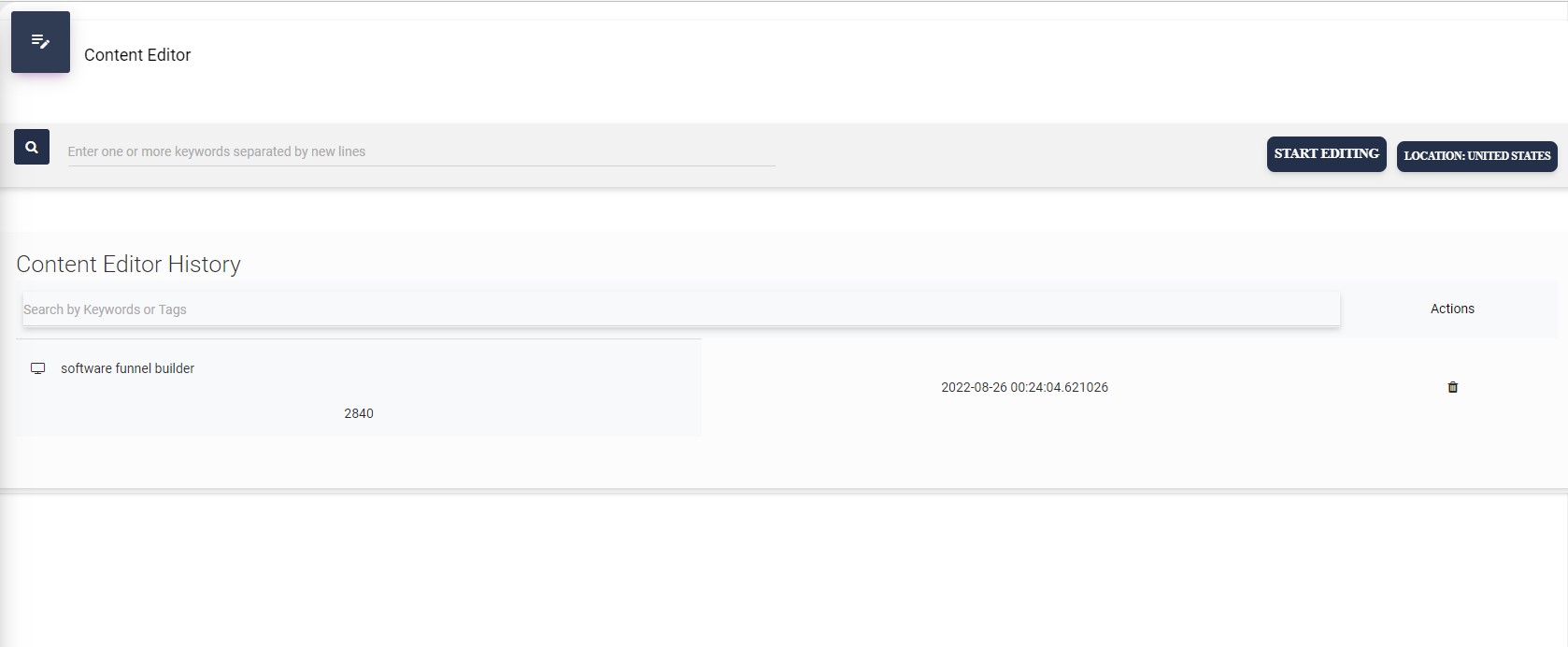 How Does the Content Editor Work
The Content Editor allows you create content from scratch or to paste content into the Editor's window.
Within the content editor you can edit the content to improve its SEO optimization. To the right of the edit window you will see the analysis of your current content compared to the best ranking content found online for that particular keyword search term.
This is displayed as a Content Score dial scored out of 100 and as an optimisation target summary of suggested improvements which shows how many headings, words, paragraphs and images should be included to improve the current content.
Below the target summary are displayed relevant words and the suggestions with regards how many times these words should be found on the page.
There is also an artificial intelligence AI content generator within the Content Editor which allows you to automatically insert relevant text related to the keyword term you are writing about. This is great for creating small paragraphs of text within your content for relevance but is not a complete AI content tool like you will be able to create with Article Forge reviewed here but the main feature of the tool is auditing your content and comparing it with your competition which it does really well.
How Much Does It Cost?
You can sign up for the annual plan today here for the special pricing of just $327 which breaks down to $27.25 per month. This is a limited time discount pricing link before the price reverts to the higher monthly only subscription cost.
1. How to get started:
Click the link here and then sign up for an account with the offer for the discounted annual license to Shine Ranker.
Conclusion
There are many benefits of using Shine Ranker but the major benefit it provides is the ability to find best value keywords which you can rank more easily in an easy to understand SEO keyword research feature. Auditing your competition and then going after their traffic but leveraging the easy keywords that you locate from their websites is not something that I have seen anywhere else and this is worth the cost of the tool alone to find profitable keywords.
The other key benefit I would say is that the product developer of Shine Ranker Chase Reiner being an SEO industry expert continues to develop and improve the tool for his own use. You get the benefit of his knowledge and SEO experience with the current tool design and also the future improvements that will be made when you use the new tool.
Shine Ranker makes SEO easier which is why the software that is less than a year old is already establishing a great name for itself in the industry. Lock in your discounted annual price here and you will get the discount price fixed for the life of your subscription no matter the additional features that Chase adds to the tool or the monthly price that the tool becomes with the ongoing developments and new feature releases.