You've probably heard of Content Samurai or Vidnami as it is now known by now but a Vidnami alternative or competitor to this established product has to be good as Vidnami has a lot of strong features. Check out our review of the current market free and paid Vidnami alternative options below.
We were intending to do this Vidnami alternative post for some time but this has become a more relevant topic recently as Vidnami has advised that they have sold their technology to GoDaddy and will shortly be removing the product from the open market under their own branding.
At the moment there is no news on what will happen to the software under the GoDaddy ownership and who will be able to access it in the future.
To my knowledge there was never a lifetime Vidnami option so all users were either paying monthly or annually as a subscription service so it is of course within Noble Samurai the developer of Vidnami's right to sell and stop access to the software. 

Hopefully the product will be made available in the future to the masses at a reasonable price as part of some GoDaddy marketing suite but in the meantime users will have to look elsewhere for their video marketing productions.
Hopefully one of the following Vidnami alternatives will suit your video marketing needs and if you need any help to decide this post may assist you in your decision process.
If you wanted to create content videos. This was one the best and biggest video platforms out there for turning your blog posts into professional videos. The technology had been developed over the past few years to make it a worthy market leading software video creator app.
Vidnami was my main recommendation as even though there was a monthly cost the professional quality of the videos which it could produce, its ease of use and the variety of video styles plus access to all the multimedia and audio content made it very hard to beat. The best feature was that you could use the video making software to create quality videos for almost any market.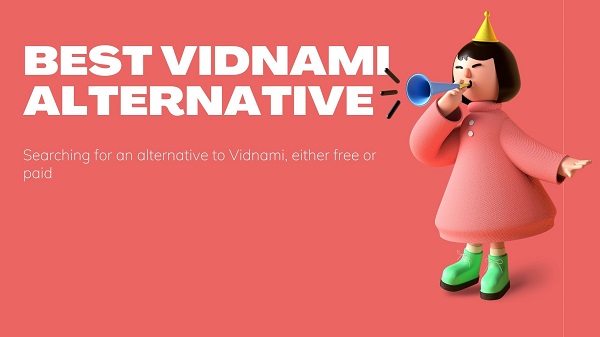 Free & Paid Vidnami Alternatives
There are a number of free alternatives to Vidnami but these do have some restrictions which I will share in the descriptions.
In the main I would say that with most of the free options you should consider these more of as a trial before you subscribe. Most of them will have restrictions when you start looking to create more than a handful of videos and will run into a reason to upgrade then to a paid plan.
The Vidnami experience can be summarized as follows. By using the latest text matching and voice recognition technology, Vidnami edits your video in real time from start to finish. You can create videos faster than you can think. This was a strong act to follow.
Before changing their free trial offer, Vidnami was a popular service for free and paid users. A large number of people were using Vidnami's video creation features for free before Vidnami locked the free trial down by adding a watermark feature. Many of the other free options also include watermarks on their videos or on the end screens so this is common practice in order to get people to upgrade. These should really be classsed as free trial usage rather than free to use products.
Whether you want to monetize your YouTube channel by making videos. To sell more products, or use video on your sales pages having access to a good video software tool is indespensable to an online marketer.
For those who design is not their main skillset I would recommend the easiest place to start with most of the video tools is by using an existing template similar to what you require the final video to be and then amending that. You will produce much greater results that way.
Best Paid Vidnami Alternatives
Animoto
Animoto is ideal for professionals and established business owners using videos to advertise their products and services.
You can create videos with Animoto in a variety of sizes so that they can be shared across social media platforms.
Animoto has a good interface and creating a video is as usual either from using an existing template or starting from scratch.
What we did find from Animoto was that it was difficult to create a video on the free plan unless you have your own images to use as the image and video library that they reference is Getty images. There were very few images and videos available that were not from Getty and you only get access to these with a paid subscription. Hence this appears in our paid seleections.
Animoto Pros
Unlimited video downloads
Can only render 15 second videos
Only 1 brand pre-set with free and lower priced bands
Limits on storage for free plans

Animoto logos are enforced for Free users
There are no limitations on how many videos you can produce with Animoto's paid plans.
Animoto Cons (Free Version)
Limited to 720 dpi for videos
Very limited image and video library avaiable for backgrounds with free version (trial)

Animoto watermark are enforced for Free users throughout the video
Yive Video Maker App
Yive is less known in the video marketing software market but they are an established software developer in the internet marketing space.
Yive which stands for Your Instant Video Empire had developed a video software product as part of their suite of marketing tools.
With the demise of Vidnami they are now offering Yive video as a standalone video marketing software app. I have signed up for this and will do a full product review video and blog post shortly but it is a very strong product with many of the features of Vidnami plus it also includes some additional features which were not included in Vidnami for video marketing.
Yive Video includes the AI engine to automatically select matching video and image backgrounds for your video script. Yive Video also includes voice over technology similar to Vidnami but also included both Google and Amazon voice engines to give you a greater selection of English speaking voices but you can also now create foreign language videos with a very good selection of foreign language languages included. Yive also includes the same range of videos and images for the video slide backgrounds.
You can check out the Yive offer at the following link.
Yive Pros
Can create foreign language videos
Can download video as MP4 video
Can save archive of videos to the cloud
Can manage multiple YouTube accounts and video submissions
Can create videos from articles or from websites
Can create videos for Amazon marketing
Can create videos for marketing automobiles
No restrictions on video quality
Yive Cons
Has a steeper learning curve than Vidnami due to more video options available
Instant Video Wizard Software App
Another product which I have used mainly for foreign language videos was Instant Video Wizard. I used to use this alongside Vidnami, as Vidnami could not manage foreign languages in its voice over scripts for it's videos.

Vidnami has better AI recognition so was much better for the image recognition and Vidnami also introduced the ability to select video backgrounds as well as the image backgrounds.
Instant Video Wizard does not have video backgrounds but you select images from Pixabay, Pexels and Unsplash which was the same as Vidnami a few years ago. This is still very workable as a video creator. making a video is similar to Vidnami by uploading a script and then the software will automatically build the video from the image library.
After the slides are all built you also have a good selection of controls to edit and amend the slides, text and transitions.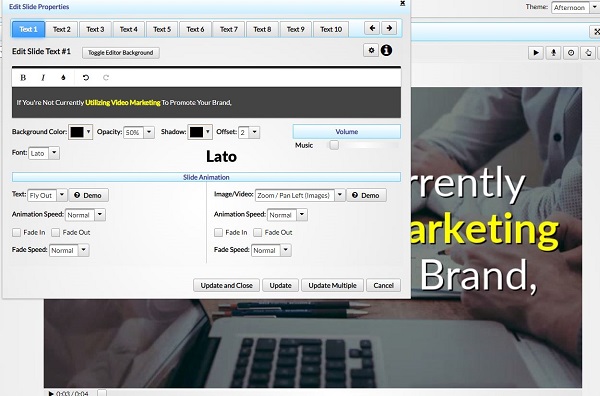 Instant Video Wizard Pros
Can create foreign language videos
Can download video as MP4 video
Can download video as MP3 format for podcasts
Can download video transcript for ease of uploading to YouTube
Instant Video Wizard Cons
Slightly dated interface
AI recognition not as good as Vidnami
Only Animated image backgrounds not video backgrounds for slides
Has a steeper learning curve than Vidnami due to more video editing options available
Free Vidnami Alternatives
If you want to get your product, services, or brand in front of millions of people, YouTube is the best and biggest platform to do so. Having a video marketing campaign at your disposal is the single most powerful tool you can use to generate long-term, free traffic.
A library of over 112 million high-quality images is analyzed to suggest the best images for your video from Content Samurai's vast image database.
YouTube and video marketing can no longer be ignored, so go out there and create videos that will catch the attention of viewers with a few simple clicks. There are no monthly fees, you get Vidnami alternatives for the free with the following recommendations.
Wave Video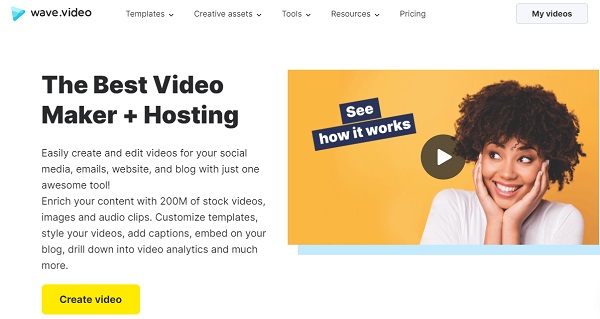 With Wave video your videos can be created and hosted with Wave video for promotions, video advertisements, social media, emails, websites, and blogs.
Video clips can be combined, cropped and trimmed as you wish, animated text can be added along with a voice over, music can be added to videos, filters can be applied and the aspect ratio can be changed in Wave.
Wave is best suited for marketers, bloggers, and small businesses that want to brand themselves with video.
Overall there are a good range of video background and images included in Wave but you need to select these all manually so build your video from scratch which does take longer.
With Wave its best to start with a template already aligned to your final video, like a cooking template for a cooking video for example. You can easily switch between video layouts, portrait, square etc. This can reduce the number of edits you need to make. There is a selection of music tracks also to choose from.

Wave.video Pros
Good range of video types you can create
Access 2 million royalty free video clips and images
Wave.video Cons with Free Version
Wave.video logo is shown on your embedded videos unless you upgrade. The site notes the logo on your Video Landing pages will not be shown as long as you maintain a premium subscription. You can remove the logo when you subscribe.
No video download
Can only render 15 second videos
 Limited to 720 dpi for videos
Only 1 brand pre-set with free and lower priced bands
Limits on storage for free plans

Wave.video logos are enforced for Free users
Canva
Canva is better known as a popular free image editing and design software. Creating social media images, banners and ads was a strong point of this software with its easy to use design. You create animated GIFs and these could be downloaded as MP4 short 5 second videos. 

Canva Pros
Recently they also introduced a video feature which allows you to create short promotional videos. There are a range of templates and styles to choose from to create short promotional videos which are used for ads or social media promotions.
You can create talking head style or explainer videos and the
Canva does not watermark the videos
Available for free with no monthly usage restrictions

Canva Cons
 No built in audio but you can upload your own audio tracks
No automated voice features for the videos but you can create your own narrative video
What is Better Than Vidnami as an Easy Video Maker
This was a difficult comparison when Vidnami was available but as it shortly may no longer be available on the market to all users the gap has narrowed.
My two main recommendations are as follows:
There are many Vidnami alternatives to consider and depending on the type and quantity of videos that you need to create you may be happy to choose one of the free options.
The good news is that all of the brands mentioned here are online services so nothing complicated to download or install.
Vidnami does have some big boots to fill as the number of features and ease of use that it introduced set the standard which the others cannot in the main as yet follow.
If you are looking for something to produce general social media type videos and for ease of use and only looking to produce a few video a month most of the free options would suffice. Due to the various  restrictions that these impose you could only really call them free trials. Canva is the only free product that does not impose restrictions on usage and is a great all round image and social media tool.
If you are looking for something to produce more than just general social media type videos and need a range of options to produce videos for many markets and more serious video production. Then based on the overall range of control of the video software, the number of options and the final quality of the videos produced our recommendation currently would be Yive video which you can check out here or for more ease of use but with a less rich media library of images then Instant Video Wizard is a worthy runner up.