The GrooveFunnels app is what is described as funnel-building software. This is is a new type of software that is predicted to emerge as an essential online marketing tool if you are a business owner and doing any online digital marketing.
But there is even more benefit when you sign up for this marketing funnel building app for free as you also gain access to an all-in-one marketing software suite of Groove apps to boot which deliver essential automation functions to grow your business online.
The GrooveFunnels App Explained
Traditionally business owners' first steps online would be with either social media or a website. These methods still work but they have been around for several years and no not so effective for directing customers in a chosen direction.
The GrooveFunnels app is designed to create steps that you can funnel your visitor along one step at a time. This is a simple concept in traditional offline marketing methods but achieving this digitally previously has been difficult.
Mike Filsaime one of the product owners of Groove.cm has a wealth of both marketing experience and also software development experience. Mike is known as the Steve Jobs of online marketing and has been behind many multi-million dollar product launches and also multi-million dollar product developments, like WebinarJam, Kartra, and EverWebinar.
Mike's mission was to develop a single complete suite of digital marketing tools that would be so powerful business owners would be able to accomplish everything that they needed within the one marketing platform. More than this he also wanted all the apps to be able to connect and share information with the other apps so that they could all work with one goal in mind.  Being to move the customer along, one step at a time in the decision-making and sales process in a digital method. And also to accomplish all this in an automated hands-off manner.
You can see that accomplishing this would be every business owner's dream as having a website allows you to show your products to your audience 24/7 but having an automated sales process will allow you to make sales 24/7. This is what most business owners cannot achieve currently.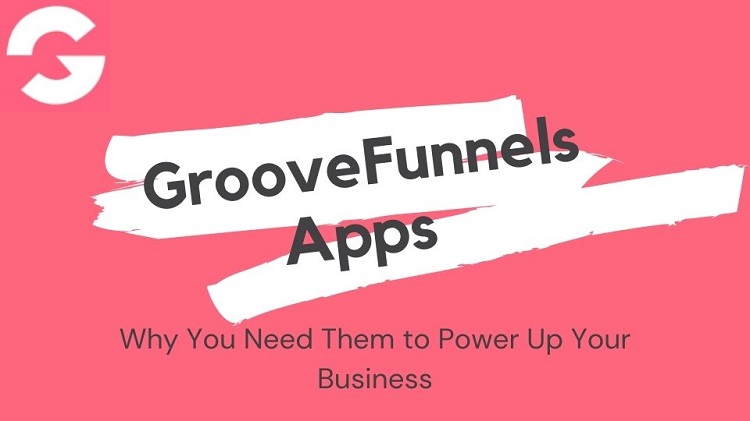 Groove Apps Designed for Ease of Use
The GrooveFunnels app was the first flagship app released as a component of the full marketing suite of software apps. The full marketing suite of software apps was later rebranded under the Groove.cm banner. As the original app launched was the GrooveFunnels app, the software became more commonly known as GrooveFunnels in the market but the funnel builder app as per its actual name is the GroovePages app. This may have caused some confusion but the functionality of the products was so strong and the future intentions so great, that the early direction and confusion over names can be overlooked.
The GrooveFunnels app in the future is forecast to be the digital funnel step by step builder where you can visualize the funnel and map out the strategy of your funnel. Then review the metrics of the funnel to measure its effectiveness and tweak it as necessary or increase the traffic to it when it is optimized. This will be a new killer feature.
The GroovePages app will be the app to actually edit and design the pages within your funnels that the GrooveFunnels app will map out and define the connections for each of the pages. Check out our full Groovepages review here. Within Groove, you get a whole range of templates included for the GrooveFunnels app which cater to the most common and asked-for requirements for business owners. You can easily modify these templates to develop your own fully functional funnel pages with the GrooveFunnels app and Groovepages app.
GrooveFunnels Apps Designed for SEO & Mobile Friendly Sites
Out of the box all the landing pages, funnel pages, and blog pages developed within Groove and the GrooveFunnels app are all SEO, search engine optimized as standard plus they are also all mobile optimized also as standard. This is because the software engine that has been used to develop the code of each of these pages has been optimized from the ground up. The pages that it creates and the code that it uses you don't need to worry about as it is all under the hood.
All you need to remember is that the pages that you produce with the GrooveFunnels app are exactly what Google is asking website owners to move to with the mobile-first index which means you get better performance of your pages on mobile devices. Plus you get better results in the search engines without any additional effort.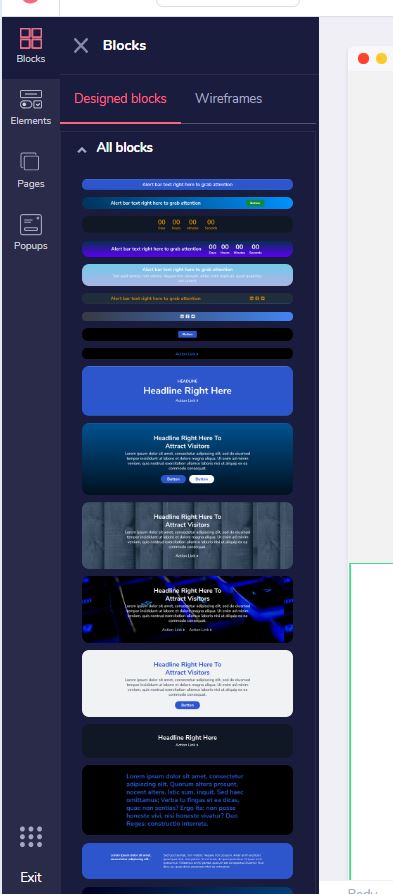 GroovePages Apps Drag and Drop Design Software
All The Groove Apps & Features Included
GrooveVideo – Video Hosting Solution
GrooveVideo is an online marketing tool for video. Video for online marketing is well-known to most users. Video for online marketing has become a vital part of your business's success. Just think about the rise of YouTube. GrooveVideo allows you to either store your videos in GrooveFunnels App or use Amazon S3 external storage to call them from GrooveVideo.
YouTube hosting your videos is not the best option for a premium or paid video content. It cannot be secured and can cause users to become distracted. This could lead to them moving away from your content in your sales funnels, or even disorientated from your sales pages. GrooveVideo solves these problems and allows you to tag and target partial and video views to re-target prospects with your marketing video content.
GrooveVideo Features
Create and manage custom video marketing sequences
Call to Action CTA marketing techniques can be used in your videos
GrooveFunnels App and Amazon3 are great places to host your videos.
Your video bounce rate may be lower than any other social media
Teach and educate your prospects
Engage your prospects
Multiple CTA sequences may be created for each video to promote sales and marketing within your videos

GrooveMail – Email Marketing Software
This feature is one the most anticipated App in Groove. This email marketing tool is most commonly used for online marketing. GrooveMail lets you replace an autoresponder subscription, and send targeted emails to your business contacts. This email marketing app allows you to segment and tags your audience for you to use marketing automation in your email marketing. With the GrooveFunnels App, you can create landing pages and sign-up pages which channel your visitors onto your mailing lists so that you can email them and market to them in the future.
GrooveMail Features
Create email sequences
Email automation can be used to improve your marketing
Send customized broadcasts to your audience
Marketing automation can include SMS, voice, text, and email.
Keep following up to sign up sales presentations, sales webinars, and sales promotions
Teach and educate your prospects
Engage your prospects
GrooveSurvey lets you segment surveys and create quizzes.
GrooveVideo lets you track video time and create follow up sequences for sales and marketing videos

Final GrooveFunnels Apps Now Available
Some of the final major Groove apps have recently been released which were referenced on the 2020 software development road map here. These were the "tent poles", or key product apps of the marketing software suite. These as previously forecast are now being delivered as the lifetime price is increasing, similar to the previous August GrooveVideo/GrooveMail arrivals and September forecast groove funnel pricing increase.
GrooveWebinarsWebinarSoftware
GrooveFunnels is excited to announce the GrooveWebinars App, which allows users to combine webinars with auto webinars. Webinars have become a popular method for digital marketing. The GrooveWebinars app, which is also a Platinum GrooveFunnels app, combines webinars and auto webinars. Create webinar signup pages with the GrooveFunnels App, which channels your visitors onto your mailing lists so that you can email them webinar timings and links plus you also then get to and market them again in the future.
GrooveWebinars Features
Create live webinars
Automate webinars
Classes
Present sales pitches
Organize virtual meetings
Teach and educate your prospects
Engage your prospects
Encourage curiosity in your prospects
Use streaming technology
GrooveKart: A GrooveKart For Your Life
GrooveKart is an e-commerce platform that competes directly with Shopify. This product is a separate product within the GrooveFunnels suite of e-Commerce products.
This allows you to be able to migrate your Shopify accounts to the GrooveKart app of the Groove marketing suite. It allows you to reduce marketing costs and optimize your store's marketing features. GrooveKart Lifetime License and a GrooveFunnels account for a lifetime. GrooveKart lets you use GrooveFunnels' marketing features in an online store.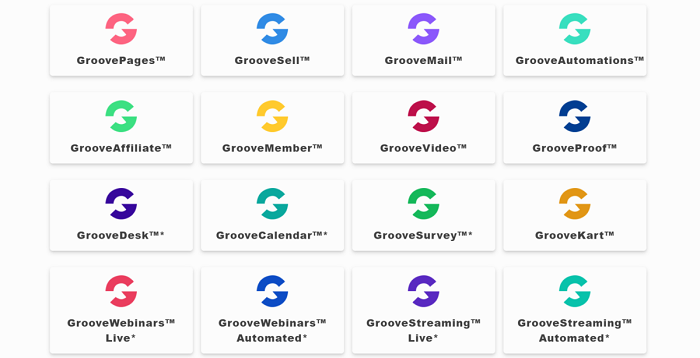 GrooveKart Features
You can house thousands of products
Numerous product variants
Create sales funnels
Order bumps
Re-target existing buyers
Use social proof to increase conversions
Incorporate scarcity features such as count-down timers
Print-on-demand, drop-ship or sell physical products
You also get 16 apps with it, unlike other platforms which require you to purchase ad-dons individually

GrooveMember Membership Software
To create an online course or sell digital products online, you will need a Membership site. The GrooveMember app will help you save on expensive membership site software. The software is all designed to look and feel the same as the GrooveFunnels App so that your users can get up and running quickly creating the membership site layouts.
GrooveMember App Features
Deliver high-quality digital content securely
Send password-protected content to your audience
Drag and Drop Page Builder Software for high-quality page design
Mobile-optimized, high-quality membership sites
Teach and educate your prospects
Engage your prospects

GrooveBlog Blogging Platform
GrooveBlog replaces WordPress. GrooveDesk is a service desk. GrooveCalendar is a tool that can be used for creating a team calendar. The GrooveBlog app is again designed to look and feel the same as the GrooveFunnels App so that your users can get up and running quickly creating the blog site layouts with ease.
GrooveBlog App Features
Text, audio, and video can all be published
WordPress replacement software app
Engage your prospects
Increase your organic reach

GrooveSell App
The GrooveSell app is a tool that can be used for creating steps in a checkout process.
GrooveSell Features
The GrooveSell app is a very powerful tool that can be used for creating steps in a checkout process. Within this, you can also test different price points to find the best converting price for a product.
You can also add coupons and discounts with the GrooveSell app. It also integrates with all the major payment processors so is an extremely powerful app for your marketing toolbox.
You can use it if you selling
Ebooks
Digital products,
Digital services
Physical books
Other physical products
The checkout process will work with
ThriveCart
SamCart
PayKickStart
Clickbank
JvZoo
And of course GrooveKart

GrooveSurvey
GrooveSurvey lets you create surveys for prospects. GrooveQuiz allows you to segment prospects for more targeted marketing campaigns.
GrooveSurvey Features
Create quizzes
Create surveys
GrooveMail lets you segment your prospects to allow for better targeting sequences
Engage your prospect
Encourage curiosity in your prospect
There are currently 20 Groove Apps, each specifically tailored to your business marketing needs. They are all integrated to maximize each app's power and ensure they work together seamlessly for your business marketing requirements.

GrooveAffiliate
GrooveAffiliate Features
GrooveAffiliate is designed for businesses that employ affiliates or resellers to promote their products or services and who earn a fee for each customer that converts into a sale for a business.
The GrooveAffiliate App is designed to manage all your affiliate management processes, coupons, discounts and the sales commissions process including calculating commissions and commission forecasting.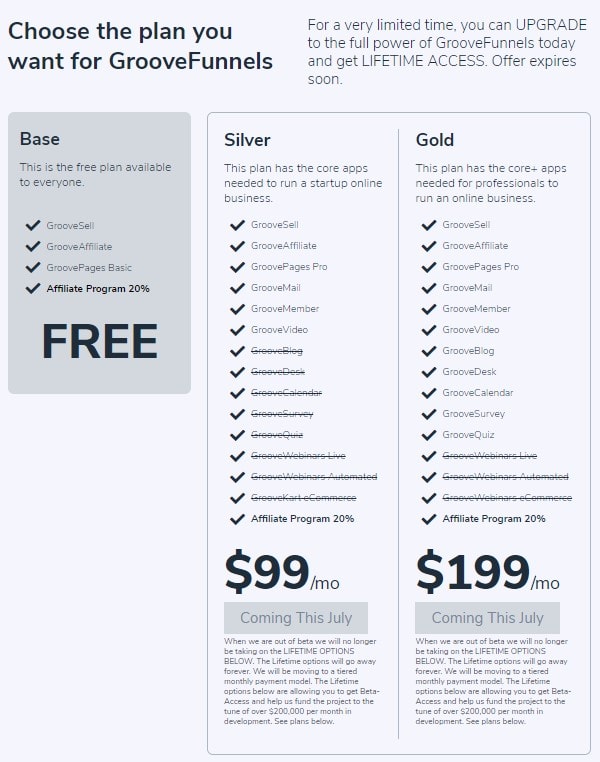 GrooveDesk
GrooveDesk features
Get in touch to learn more about your customer history
GrooveCalendar Interact
Improved customer management
Take care of your customers
Customers can be retained better
GrooveCalendar
GrooveCalendarFeatures
To schedule a meeting with your customers
Get together with your team
Educate your prospects
Take care of your customers
Customers should have a longer life expectancy.
The GrooveFunnels apps Platinum lifetime deal is closing February 2022 in which you can pick up the whole marketing suite with a lifetime license for a one-off cost of just $1997 with payment plan options included. This is a massive saving over the future subscription cost of $299 per month when the GrooveFunnels lifetime offer closes. You can also grab a free account by clicking here while they are still available.