GroovePages Review – Is This The Death of ClickFunnels
So what is GroovePages reviewed here and how will this GroovePages software benefit your business?
Well in a nutshell, GroovePages has been designed by expert marketers to make it super easy to use. And includes marketing conversion optimization features built in, ready for you to access. With GroovePages you can quickly launch your sales funnels and landing pages in just minutes. You can create professional looking landing pages with no effort at all. And easily build high-converting sales funnels with the step by step template features.
This will save you time and money to get common marketing tasks done more simply. The software is also designed to replace a lot of your existing marketing software and should not only save you money. But also save you the frustration of having to regularly solve integration problems, stopping your automation from actually working and benefiting your business.
There's also a size available to suit all businesses and all business types. You can get access to a free Lite version or there is a paid Pro version. Because this software is in the final phase of software development; the beta phase; you can get both versions with lifetime access and no monthly fees during the current launch special. So there's really no reason to not get your hands on one of them. Read on to discover why you should consider them to start automating some of your business processes and speed up your marketing efforts today.
Welcome to my GroovePages review 2021, I'm a long-time online marketer and funnel building expert. I've been using funnel builders for my online marketing and SEO business for at least the last 10 years. The biggest problem with funnel builders like ClickFunnels, Kartra or Convertri is that the range of templates you may get with them, although often quite large are often too simple and don't convert very well. Or else they are too complex to use in your business and not very easy to manage to get all the parts working well together.
GroovePages comes with a range of ready made templates which you can customize and use as the basis of your new funnels or landing pages. All the pages connect together easily within the software and its all point and click to make connections between pages.
At the moment Groove Pages Lite is free for life with a license that allows you to create a maximum of 3 sites. Although you can keep reusing the 3 sites over and over. So they can always stay current for your latest offers if you keep redesigning them. The GroovePages Lite version also comes with a lifetime license of GrooveSell which is another software app and where you create and add your products to make a sales funnel. This is also integrated with GroovePages so very easy to be able to add products and add them into your pages.
What Is GroovePages and GrooveFunnels
GroovePages 2.0 reviewed here is a cutting-edge software application for creating landing pages, opt-in forms and  squeeze pages. This is also one of the major apps that form the all-in-one marketing software called GrooveFunnels. GrooveFunnels has been designed for internet marketers, eCommerce store owners, small and medium business owners.
When you sign up for GroovePages you will access the software from inside the GrooveFunnels dashboard. So there is one common look and feel for all the apps. GrooveFunnels will add other apps to the software suite of marketing tools and provide all the integration for the apps.
The future Groove apps to be released include GrooveMail, GrooveVideo, GrooveCalendar, GrooveDesk, GrooveSurvey, GrooveQuiz, GrooveWebinar and many more. Combined these apps will certainly be a powerful marketing combination able to share data between the apps that separate apps from separate vendors would not easily be able to achieve.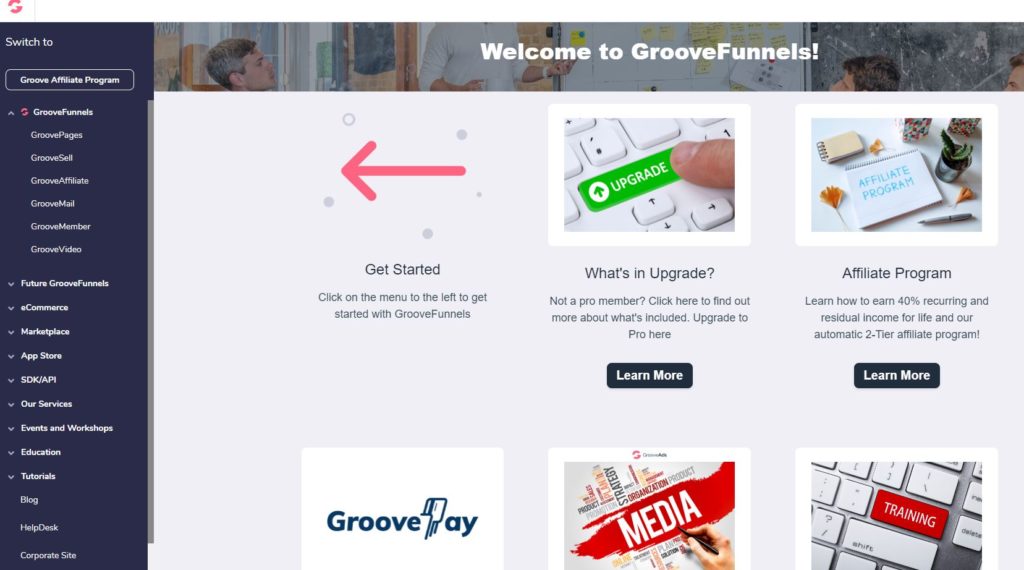 GrooveFunnels when all the apps are completed will be a complete solution for marketing software released by GrooveDigital as an innovative totally integrated suite of marketing software. This is all designed to replace your reliance on many other marketing software applications and subscriptions that you may already be paying .

Joe Jablonski and Mike Filsaime are the guys behind GrooveDigital. And if you have been online for any amount of time you would have heard of Joe and Mike. You probably even may have used or come across some of Mike's other software such as GrooveKart WebinarJam, Kartra and EverWebinar.
These are some of the best digital marketing software tools currently available on the market. So very good things are expected with GrooveFunnels. On top of this the products that have been released and the road-map of those to come shows that the tools and features included with these as standard are all designed to increase the effectiveness of your marketing.
The GroovePages app is destined to be a major contender to the current most popular funnel builder ClickFunnels, over the coming months.
Groove Pages Review 2021 Full Sales Funnel and Page Builder Software
Groovepages is the landing page and sales funnel builder for creating landing pages, opt-in forms and squeeze pages. It can also be used to create complete web sites with the page and menu options built in. You can also benefit from hosting your pages on the GroovePages own fast servers. So that you can get landing pages and sites online in just minutes without expensive web hosting costs for all your many landing pages.
If you prefer you can of course add your own domain to the GroovePages dashboard so that all your pages appear on your own domain.
What's the Difference Between the Free Lite and Pro Versions of GroovePages 2.0?
GroovePages is available as both a Lite and also as a fully featured Groove Pages 2.0 Pro version.
The Lite version of GroovePages is free for life. It allows you access to all the page and software features to create landing pages and marketing funnels to sell your products. You can sign up to GroovePages Lite for a free lifetime license here. There is no credit card required to sign up for a free account. Just enter a password and email and you will get access to the groovepages login. This is a fully featured version of the Groove Pages software, with the main restriction being that you can only build a maximum of 3 sites. Each site can however have unlimited pages.
The GroovePages 2.0 Pro version allows you to create unlimited landing pages and marketing funnels to sell your products. You can sign up to GroovePages 2.0 Pro currently for a lifetime license here. But this offer is due to end shortly and the software will then become a monthly subscription only. This is a great offer while it lasts, as you can get lifetime access to the software for just one payment before it moves to the monthly subscription. GroovePages when the software goes to a monthly cost will be offered within the Silver GrooveFunnels subscription which will be priced at $99 per month.
As an online marketer I am always on the lookout for new solutions to improve my online automation and increase my marketing reach without breaking the bank and GroovePages 2.0 reviewed here is just the product which allows me to achieve this, quickly and easily.
Using automation can allow you to increase your marketing reach without increasing the cost proportionally for each increase of your marketing effort.
GroovePages is a form of software called a landing page builder or or sale funnel builder as it used for making landing pages and sale funnels. It can also be used for making opt-in pages also called squeeze pages and even websites.
GroovePages 2.0 Is This The End of Click Funnels?
GroovePages is a new contender on the funnel builder software market and as such will need to contend with the established market of funnel builders such as ClickFunnels and Kartra.

So how does GroovePages compare when you consider Groove Pages vs ClickFunnels or GroovePages vs Kartra.
Well actually it compares very well. Which is not surprising as the product creator is none other than established online marketing expert Mike Filsaime blog. Mike is an entrepreneur and CEO of Groove Digital and who's background includes being a long established digital marketer, software developer, very successful marketing guru who has released many marketing products and prominent online marketing consultant. Mike was also behind the development of very successful and popular Kartra and EverWebinar software.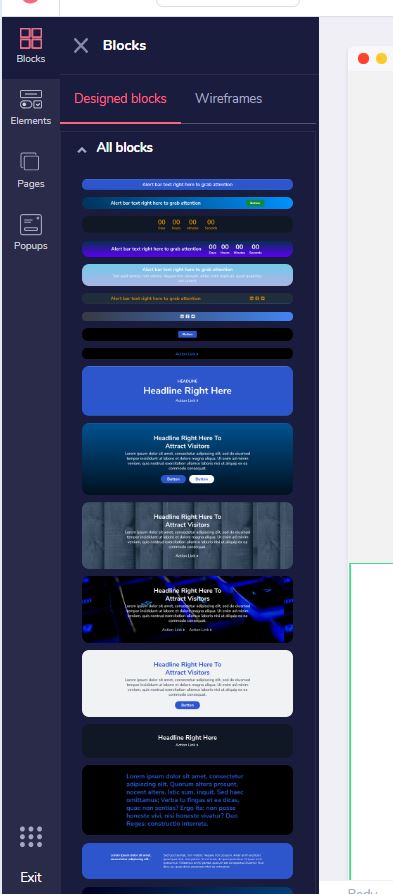 GroovePages as the new contender in the funnel building software market. Is a cutting-edge marketing tool with new groundbreaking technology. Designed for all your online marketing needs. You can build very sophisticated landing pages, squeeze pages and high-converting sales funnels with the software. It can also be used as a complete website builder.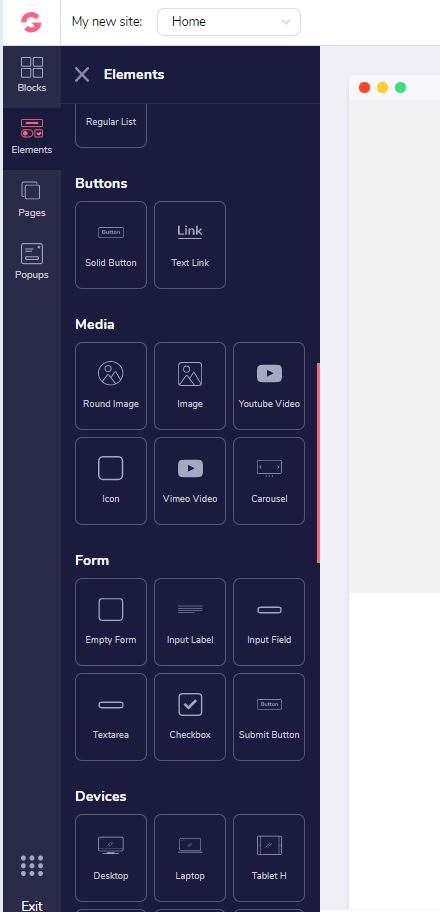 GroovePages is looking to compete with the bigger kids by being more swift of foot. It does this as it has a very modern code engine which makes the graphical user interface or GUI, very easy and intuitive to use.
It is all drag and drop and technology designed to be really beginner friendly. The software is perfect for all skill levels to be able to pick up the software and start using it straight away. Using the software is easy and it has been designed with ease of use built in. You can Toggle the software to turn on the more advanced features with Expert Mode. But all the configuration options are generally available without having to turn Expert mode on.
In this post we have focused on our GroovePages review 2021. And what the new digital marketing suite of funnel building and marketing software tools can do for your business. To maximize your sales efforts and marketing efficiencies. 
GroovePages 2.0 Software Best Features and Benefits
Ease of Use Built in
Easy to use Drag-N-Drop page builder
Mobile optimized pages out of the box
Super fast loading pages with highly optimized code
High-converting templates, reviews, funnels, up-sells and down-sells
Extensive range of marketing features built in
Countdown timers, scarcity, social proof, order bumps
Increased conversions for your offers
Re-targeting and analytics features
Integration with all your marketing tools built in
The page builder is all What You See is What You Get or WYSIWYG. There are a range of templates that can be selected when creating a new site or a new page. You can customize all the templates and they make creating new pages and sites much quicker as they are a fill in the blank design.

There are also a very extensive range of page elements that you can select and drop onto your page. With no coding required. All the items interact easily with each other and are very beginner friendly.
There are also a very extensive range of page items which you can easily drop onto your page. All designed to improve your marketing efforts without any effort. This is a key area that Mike's design influence on the software really shows.
Mobile Optimized Pages
Another major benefit of the Groove Pages 2.0 software is that the page designer creates mobile optimized pages for you, without you worrying at all about any mobile design considerations. the software just manages it all for you in the background. There is also a page preview to show you how your page would look on a mobile page, but you don't need to amend your designs at all.
The software will manage all the code and the screen resizing for all your page and site visitors. This is another major benefit of the software as Google favors mobile optimized code in its mobile first indexing. So you will benefit from your pages and sites being picked up by the search engines straight away without you having to do anything additional for this to happen.

Super Fast Loading Pages
Another area we discovered within our GroovePages review where the free funnel builder software beats out the established big players. Is that the code that it produces is very fast loading in web browsers. Because it has been designed to be highly optimized. This makes the page loading speeds very fast to load online.
This is another great benefit of the software as page loading speed is a big factor in the search engines. Producing code and fast loading pages helps save the search engine providers like Google and Bing server resources. And so this is rewarded by them. This gives the landing pages and sales funnels a good ranking boost in the search engines. Because of this fast page loading feature you get a ranking page benefit.
GroovePages Membership and Support
Another great area of the software is that there is a great Facebook community around all the GroovePages and GrooveFunnels apps. The community regularly share great content freely plus there are weekly training schedules from the GrooveFunnels team running Q&A and tutorials for the product features. There is also an online library of training videos which are all fully searchable.
Affiliates are not forgotten either as the whole software suite offers a Groovepages affiliate offer but more importantly the marketing software also has an Groovepages affiliate app for managing your own sales and marketing offers also. This is amazing value when you consider the coding that is required to track and manage sales and commissions but this is all included in the Groovepages affiliate app which is also included in the free version.
GroovePages Bonus
As a Groovepages bonus for everyone who signs up to any of the paid versions, I am offering access to a $997 value training which shows a very effective method to get your videos showing up on the first page of both Google and YouTube. This is a fantastic method and training which I use regularly for my video rankings.
This easy-to-follow but comprehensive training method will save you thousands on your digital marketing.
The bonus will be delivered automatically when you sign up but any problems just send me a message to social @ modporter.com
Conclusion and Summary
GroovePages is the best way I have found currently, to be able to quickly and easily build sales funnels and landing pages, in order to be able to promote products or services and to sell products online. The software is still classed as Beta which means there may be some bugs still being resolved. The software is all online so nothing to install. I have found it very stable. More templates would be nice to see and more have been announced are coming in the next few weeks. Updated – these are now being introduced and more are appearing each week.
There is a limited-time opportunity to get a lifetime license for the software before it moves to a subscription. Also, there is a free lifetime license version that was offered to the community for COVID 19 support to the business community.
Updated February 2022 – The cost of the Lifetime licenses has now increased as announced to $1,997, as the new features have been released including GrooveVideo, GrooveMail, GrooveMember, and GrooveWebinar. Beta lifetime licenses are now scheduled to close on February 22nd, 2022 after which time the software will only be available on a monthly subscription.
More powerful marketing features are also scheduled to be released to make creating and building powerful sales funnels much easier. Copywriting features and templates have already been released and are now included within the many GroovePages templates which are included. At the end of November 2021 to coincide with Black Friday the final charter member lifetime pricing offer which has been available for a Platinum lifetime license has been announced will be closing for good.
Sign up for the lifetime Pro Groovepages 2.0 while it is still available here.
Groovepages is due to move to a monthly subscription shortly on February 22nd, 2022, so the lifetime is currently very good value if you are looking to save money on monthly subscriptions.
You can sign up to Groovepages Lite for a Free lifetime license while still available here